Back to Speg's main page
---
We started the day in Lexington NE. Our broad target of eastern Nebraska and western Iowa become more focused in eastern Nebraska as we looked at morning data. We targeted the area near Aurora as it looked like that would be near the intersection of the warm front and dryline later in the day. So we drove to Aurora and hung out, and relived Dave's adventure from May 28, 2008 at the same gas station (where they encountered 100+ mph winds that tore up the place up, as seen on this photo by Lorraine Evans.)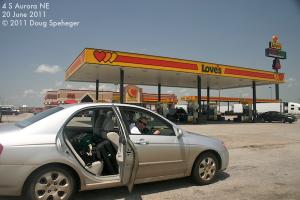 And we waited, even while watching a storm evolve in western Kansas near the surface low that produced a number of tornadoes, some large, as it moved northeast into southern Nebraska. Around 3:30 pm or so, we finally started seeing towering cumulus develop to our west. Initially, the sky near the warm front to our south looked very quiet with only very flat cumulus, so we started drifting toward the developing storms near Grand Island. But despite the bad look to the cumulus field there initially, we saw towering cumulus developing quickly south of Aurora as we drove toward Grand Island. So when the storms near Grand Island started to move northwest and get absorbed a larger storm farther northwest, we decided to move back toward Aurora and play the strengthening storms that developed near our original target. So we drove back to Aurora.
The small line of storms developed with the southeastern most storm southeast of Aurora moving northeast. So we drove east on US-34 from Aurora to east of Hampton and northeast of the storms. From east of Hampton, the base of the storm to the southwest had a lot of associated rain, but looked very interesting.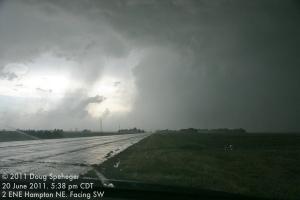 As we drove back west toward Hampton, we could begin to make out a tornado hidden in the rain to the west and northwest of Hampton while at the same time seeing a new storm base developing to our south (not shown), although it did not look like it would produce a tornado soon.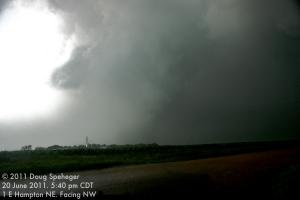 And as we continued to watch for peeks of the tornado embedded in the rain to our northwest, a tornado quickly did develop with the new base to our south/southeast behind us.
Meanwhile, the tornado to the north-northeast was becoming more visible as the rain curtains moved away allowing better views. So we took alternating photos of the first tornado to our north-northwest and the second tornado to our southeast.
The first tornado to our north dissipated at 5:47 pm, and we began moving east toward Bradshaw watching the second tornado cross US-34 to our east and about 2 miles west of Bradshaw. We noted a train that had been hit by the tornado in a track parallel to and south of US-34, as well as outbuilding and tree damage where it crossed US-34 just two to three minutes before.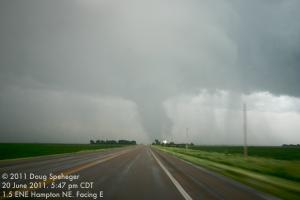 We stopped to take photos of the tornado to our north from just west of Bradshaw, then continued east to York and then north to follow the storm and we watched the tornado dissipate at 6:02 pm looking north-northwest from near the US-34/US-81 junction on the northwest side of York.
As we drove north past Stromsburg, we finally noted the new tornado to our northwest that had likely been occurring for a while.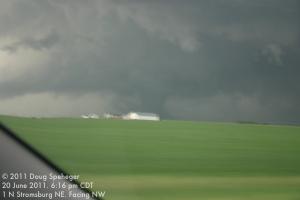 We found a place to stop and observe the tornado for a few minutes looking northwest from north of Stromsburg. The tornado became thinner, then decreased from a well-developed tornado to nothing within about one minute. The visibile condensation funnel dissipated at around 6:22 pm, although the rotation in the suspended dust was still observed for another minute or so.
We repositioned to near Columbus due to the lack of good road options, and engaged the storm again north of Columbus. Although there was some occasionally interesting motion, it did not look as threatening as it had earlier. So we broke off the chase just before 7:30 pm and started moving back toward York where we would eat and check-in to a hotel at a reasonable time for once. But the storm did give us one more photo op during our drive back to York with mammatus clouds and wildflowers south of Stromsburg.